Yesterday, I posted about how to double your traffic with a proper SEO strategy.
Today, I show you the opposite.  A lead came to SEO National after they made some mistakes that they needed correcting.  More than a few.  They made a lot of mistakes.
⛔️ entire site was redesigned
⛔️ call-to-action was eliminated
⛔️ new navigation was not intuitive
⛔️ pages were deleted without redirects
⛔️ valuable content was eliminated
Here is what happens when you make a major website overhaul without considering the SEO impact.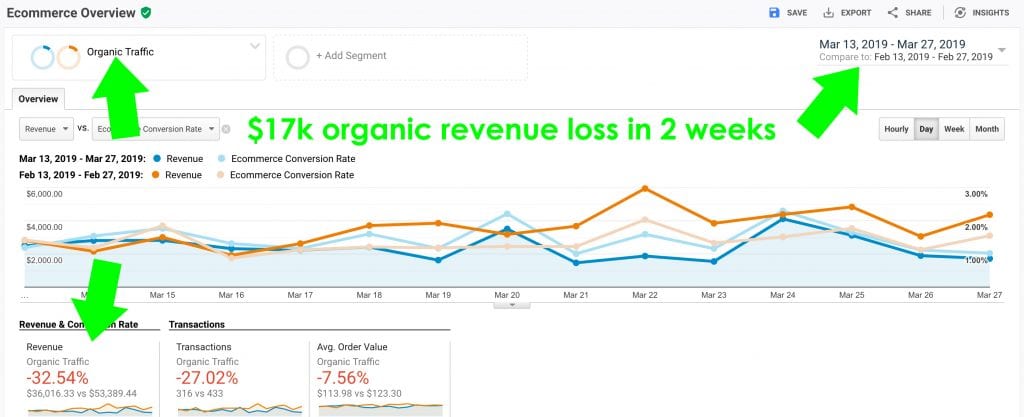 🚫 Eight less sales per day
🚫 Decrease of $10 per average order value
🚫 Loss of an average $1,241 in organic sales per day
This is organic sales only. The characteristics of the new design likely negatively impact sales in other channels too due to the lack of call-to-action and intuitive design.
Here are cliff notes to minimize such a negative impact during a site redesign or domain redirect.
✅ Migrate all valuable content
✅ Do not change/delete urls
✅ If url changes are unavoidable, make sure to add redirect to hold Google's hand and point them to the new/comparable url replacement
✅ Migrate SEO basics like title tags and meta descriptions
✅ Ensure a good page speed. Same or better as prior to the changes.
Spending a little time being proactive can save you a lot (A LOT!) of reactive time and money later.