Google has been on quite the buying spree lately. Within the last 2 weeks – 2 months Google has reportedly purchased the following:
Impermium, security technology
Nest, smart thermostat makers – $3.2 billion
Boston Dynamics, military-grade robots (the 8th robotics organization they have acquired within just the last 6 months
DeepMind, artificial intelligence – $400 million
With all of Google technology and artificial intelligence acquisitions lately, have you ever wondered how much they've spent on acquisitions? We did. So, we Google'd Google. We found this nice little article on Wikipedia. While it lists many of the acquisition prices, some of them are not disclosed. It also did not tally the total cost of all of these acquisitions. So, we totaled it up. And guess how much it came to?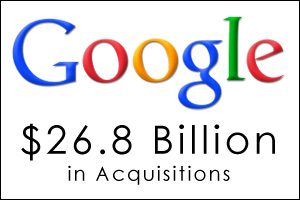 Think about it. That's only the ones that have reported purchase prices on Wikipedia. That means the number is much larger. Below is the table of acquisitions, their purchase prices, dates, and reported purposes. (Sorry for the tiny print. Had to fit it all in somehow.)
| | | | | |
| --- | --- | --- | --- | --- |
| Company | Business Type | Acquisition Date | Used/Integrated With | Price |
| Deja | Usenet | 02/12/01 | Google Groups | |
| Outride | Web search engine | 09/20/01 | Google Personalized Search | |
| Pyra Labs | Weblog software | February 2003 | Blogger | |
| Neotonic Software | Customer relationship management | April 2003 | Google Groups, Gmail | |
| Applied Semantics | Online advertising | April 2003 | AdSense, AdWords | $102,000,000 |
| Kaltix | Web search engine | 09/30/03 | iGoogle | |
| Sprinks | Online advertising | October 2003 | AdSense, AdWords | |
| Genius Labs | Blogging | October 2003 | Blogger | |
| Ignite Logic | HTML editor | 05/10/04 | Google Sites | |
| Picasa | Image organizer | 07/13/04 | Picasa, Blogger | |
| ZipDash | Traffic analysis | September 2004 | Google Maps | |
| Where2 | Map analysis | October 2004 | Google Maps | |
| Keyhole, Inc | Map analysis | 10/27/04 | Google Maps, Google Earth | |
| Urchin Software Corporation | Web analytics | 03/28/05 | Google Analytics | |
| Dodgeball | Social networking service | 05/12/05 | Google Latitude | |
| Akwan Information Technologies | Search engines | 07/19/05 | Internet backbone | |
| Reqwireless | Mobile browser | July 2005 | Google Mobile | |
| Current Communications Group | Broadband Internet access | 07/07/05 | Internet backbone | $100,000,000 |
| Android | Mobile software | 08/17/05 | Android | $50,000,000 |
| Skia | Graphics software | November 2005 | Android, Google Chrome | |
| Phatbits | Widget engine | 12/27/05 | Google Desktop | |
| allPAY GmbH | Mobile software | 12/31/05 | Google Mobile | |
| bruNET GmbH | Mobile software | 12/31/05 | Google Mobile | |
| dMarc Broadcasting | Advertising | 01/17/06 | AdSense | $102,000,000 |
| Measure Map | Weblog software | 02/14/06 | Google Analytics | |
| Upstartle | Word processor | 03/09/06 | Google Docs | |
| @Last Software | 3D modeling software | 03/14/06 | Google Sketchup | |
| Orion | Web search engine | 04/09/06 | Google Search | |
| 2Web Technologies | Online spreadsheets | 06/01/06 | Google Spreadsheet | |
| Neven Vision Germany GmbH | Computer vision | 08/15/06 | Picasa, Google Goggles | |
| YouTube | Video sharing | 10/09/06 | YouTube | $1,650,000,000 |
| JotSpot | Web application | 10/31/06 | Google Sites | |
| Endoxon | Mapping | 12/18/06 | Google Maps | $28,000,000 |
| Adscape | In-game advertising | 02/16/07 | AdSense | $23,000,000 |
| Trendalyzer | Statistical software | 03/16/07 | Google Analytics | |
| Tonic Systems | Presentation program | 04/17/07 | Google Docs | |
| Marratech | Videoconferencing | 04/19/07 | Google Talk, Google Hangouts | $15,000,000 |
| DoubleClick | Online advertising | 04/13/07 | AdSense | $3,100,000,000 |
| GreenBorder | Computer security | 05/11/07 | Google Chrome | |
| Panoramio | Photo sharing | 06/01/07 | Panoramio | |
| FeedBurner | Web feed | 06/03/07 | FeedBurner | $100,000,000 |
| PeakStream | Parallel processing | 06/05/07 | Android | |
| Zenter | Presentation program | 06/19/07 | Google Docs | |
| GrandCentral | Voice over IP | 07/02/07 | Google Voice | $45,000,000 |
| ImageAmerica | Aerial photography | 07/20/07 | Google Maps | |
| Postini | Communications security | 07/09/07 | Gmail | $625,000,000 |
| Zingku | Social networking service | 09/27/07 | Google Mobile | |
| Jaiku | Microblogging | 10/09/07 | Google Mobile | |
| Omnisio | Online video | 07/30/08 | YouTube | $15,000,000 |
| TNC | Weblog software | 09/12/08 | Blogger | |
| On2 | Video compression | 08/05/09 | WebM, YouTube | $133,000,000 |
| reCAPTCHA | Security | 09/16/09 | Google Books | |
| AdMob | Mobile advertising | 11/09/09 | DoubleClick, Invite Media | $750,000,000 |
| Gizmo5 | Voice over IP | 11/09/09 | Google Talk, Google Hangouts | $30,000,000 |
| Teracent | Online advertising | 11/23/09 | AdSense | |
| AppJet | Collaborative real-time editor | 12/04/09 | Google Wave, Google Docs | |
| Aardvark | Social search | 02/12/10 | Aardvark | $50,000,000 |
| reMail | Email search | 02/17/10 | Gmail | |
| Picnik | Photo editing | 03/01/10 | Picasa | |
| DocVerse | Microsoft Office files sharing site | 03/05/10 | Google Docs | $25,000,000 |
| Episodic | Online video platform start-up | 04/02/10 | YouTube | |
| PlinkArt | Visual search engine | 04/12/10 | Google Goggles | |
| Agnilux | Server CPUs | 04/20/10 | Android | |
| LabPixies | Gadgets | 04/27/10 | iGoogle, Android | |
| BumpTop | Desktop environment | 04/30/10 | Android | $30,000,000 |
| Global IP Solutions | Video and audio compression | 05/18/10 | WebRTC | $68,200,000 |
| Simplify Media | Music streaming | 05/20/10 | Android | |
| Ruba.com | Travel | 05/21/10 | Google | |
| Invite Media | Advertising | 06/03/10 | DoubleClick | $81,000,000 |
| ITA Software | Travel technology | 07/01/10 | Google Flights | $676,000,000 |
| Metaweb | Semantic search | 07/16/10 | Google Search | |
| Zetawire | Mobile payment, NFC | August 2010 | Android, Google Wallet | |
| Instantiations | Java/Eclipse/AJAX developer tools | 08/04/10 | Google Web Toolkit | |
| Slide.com | Social gaming | 08/05/10 | Google+, Orkut, Google Play | $228,000,000 |
| Jambool | Social Gold payment | 08/10/10 | Google+, Orkut | $70,000,000 |
| Like.com | Visual search engine | 08/15/10 | Google Offers | $100,000,000 |
| Angstro | Social networking service | 08/30/10 | Google, Google Alert | |
| SocialDeck, Inc. | Social gaming | 08/30/10 | Google, Google+ | |
| Quiksee | Online video | 09/13/10 | Google Maps | $10,000,000 |
| Plannr | Schedule management | 09/28/10 | Google+ | |
| BlindType | Touch typing | 10/01/10 | Android | |
| Phonetic Arts | Speech synthesis | 12/03/10 | Google Voice, Google Translate | |
| Widevine Technologies | DRM | 12/03/10 | Google TV | |
| eBook Technologies | E-book | 01/13/11 | Google Books | |
| SayNow | Voice recognition | 01/25/11 | Google Voice | |
| fflick | Social networking service | 01/26/11 | YouTube | $10,000,000 |
| Zynamics | Security | 03/01/11 | Google | |
| BeatThatQuote.com | Price comparison service | 03/07/11 | Google Advisor | $51,505,740 |
| Next New Networks | Online video | 03/07/11 | YouTube | |
| Green Parrot Pictures | Digital video | 03/16/11 | YouTube | |
| PushLife | Service provider | 04/08/11 | Google | $25,000,000 |
| TalkBin | Mobile software | 04/26/11 | Android | |
| Sparkbuy | Product search | 05/23/11 | Google Shopping | |
| PostRank | Social media analytics service | 06/03/11 | Google | |
| Admeld | Online advertising | 06/09/11 | DoubleClick, Invite Media | $400,000,000 |
| SageTV | Media center | 06/18/11 | GoogleTV | |
| Punchd | Loyalty program | 07/08/11 | Google Offers | |
| Fridge | Social groups | 07/21/11 | Google+ | |
| PittPatt | Facial recognition system | 07/23/11 | Android | |
| Dealmap | One deal a day service | 08/01/11 | Google Offers | |
| Motorola Mobility | Mobile device manufacturer | 08/15/11 | Android, Google TV, Patent portfolio | $12,500,000,000 |
| Zave Networks | Digital coupons | 09/07/11 | Google Offers | |
| Zagat | Restaurant reviews | 09/08/11 | Google Places, Google Maps | $151,000,000 |
| DailyDeal | One deal a day service | 09/19/11 | Google Offers | $114,000,000 |
| SocialGrapple | Social media analytics service | 10/11/11 | Google+ | |
| Apture | Instantaneous search | 11/10/11 | Google Search | |
| Katango | Social circle organization | 11/14/11 | Google+ | |
| RightsFlow | Music rights management | 12/09/11 | YouTube | |
| Clever Sense | Mobile apps | 12/13/11 | Android | |
| Milk, Inc | Social networking service | 03/16/12 | Google+ | |
| TxVia | Online Payment | 04/02/12 | Google Wallet | |
| Meebo | Instant Messaging | 06/04/12 | Google Hangouts | $100,000,000 |
| Quickoffice | Productivity Suite | 06/05/12 | Google Docs | |
| Sparrow | Mobile apps | 07/20/12 | Gmail | $25,000,000 |
| WIMM Labs | Android powered smartwatches | 2012 | Android | |
| Wildfire Interactive | Social media marketing | 08/01/12 | Google, Google+ | $450,000,000 |
| VirusTotal.com | Security | 09/07/12 | Google | |
| Nik Software, Inc. | Photography | 09/17/12 | Google, Android | |
| Viewdle | Facial recognition | 10/01/12 | Android | $45,000,000 |
| Incentive Targeting Inc. | Digital coupons | 11/28/12 | Google Offers | |
| BufferBox | Package delivery | 11/30/12 | Google Shopping, Android | $17,000,000 |
| Channel Intelligence | Product ecommerce | 02/06/13 | Google Shopping | $125,000,000 |
| DNNresearch Inc. | Deep Neural Networks | 03/12/13 | Google, Google X | |
| Talaria Technologies | Cloud computing | 03/15/13 | Google Cloud | |
| Behavio | Social Prediction | 04/12/13 | Google Now | |
| Wavii | Natural Language Processing | 04/23/13 | Google Knowledge Graph | $30,000,000 |
| Makani Power | Airborne wind turbines | 05/23/13 | Google X | |
| Waze | GPS navigation software | 06/11/13 | Google Maps | $966,000,000 |
| Bump | Mobile software | 09/16/13 | Android | |
| Flutter | Gesture recognition technology | 10/02/13 | Google, Android, Google X | $40,000,000 |
| FlexyCore | DroidBooster App for Android | 10/22/13 | Android | $23,000,000 |
| Schaft.inc | Humanoid robots | 12/02/13 | Google X | |
| Industrial Perception | Computer Vision | 12/03/13 | Google X | |
| Redwood Robotics | Robotic Arms | 12/04/13 | Google X | |
| Meka Robotics | Robots | 12/05/13 | Google X | |
| Holomni | Robotic wheels | 12/06/13 | Google X | |
| Bot & Dolly | Robotic cameras | 12/07/13 | Google X | |
| Autofuss | Ads and Design | 12/08/13 | Google X | |
| Boston Dynamics | Robotics | 12/10/13 | Google X | |
| Bitspin | Timely App for Android | 01/04/14 | Android | |
| Nest | Home automation | 01/13/14 | | $3,200,000,000 |
| Impermium | Internet security | 01/15/14 | Google+ | |
| DeepMind Technologies | Artificial Intelligence | 01/26/14 | | $400,000,000 |
| | | | | |
$26.8 Billion in Google Acquisitions