We often have new clients ask about meta keywords.
Does Google use them?
How many meta keywords should be added?
Should you list every keyword possible that is relevant to that page?
The answer, at least in our opinion, is "no" to everything regarding meta keywords.  Google stopped using meta keywords, or at least acknowledged they don't care about them, way back in 2009.  That's a long time ago.  Let's let dead dogs lie.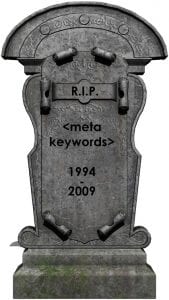 Read it on the blog of Google's Matt Cutts.  Or, hear him talk about it on Google's own Webmaster channel on Youtube.