Best SEO Company?
Maybe we're just confident in the results we deliver.
Are we the best SEO company out there? We wouldn't be so brash. However, our clients certainly might say we are the best SEO company. Look at the snapshot below of a few of our clients and their increase in traffic after hiring SEO National for their online marketing.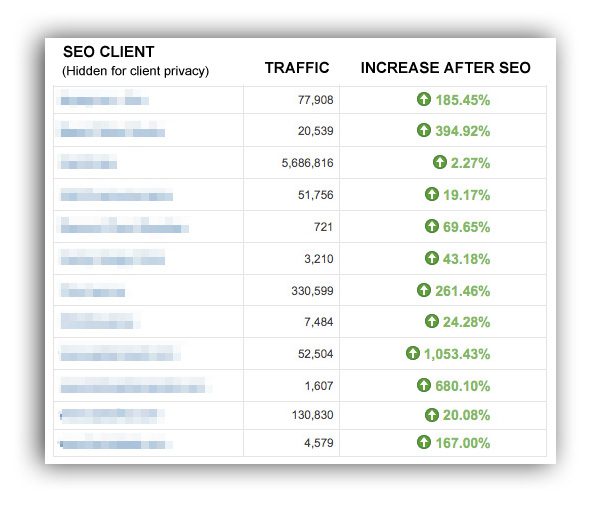 With the traffic increases shown above, you cannot blame some our clients for feeling confident that we are among the best SEO companies. We approach search engine optimization with patience and care. Detail is one of the most important parts of any internet marketing campaign.
Did you know that adding too many links too fast can actually hurt you?
Search engines will think that you are not playing nicely and could actually lower your rankings instead of increasing them… even ban you in some cases for this or similar tactics. If it happened to a big company like BMW it could certainly happen to any company. Want proof? Do a search yourself for "Google BMW ban."
What is the difference between us and the competition?
Simple. We're here for the long-term. In the years we have been around we have retained 90%+ of all of our clients for a period of 2+ years. We've have some clients that are still with us from when they started way back in 2007. Why? We deliver long-term results. In addition to the clients that have been with us for years, we also continue to expand our clientele and grow new business relationships on a daily basis. That's for a reason… we're up front. If a competitor has a valuable service and their prices are more competitive than ours than we would welcome you to take advantage of it. Regardless of price, it is the results that truly matter, and we're here to deliver.
Don't take our word for it. Feel free to read our SEO client testimonials or our case studies. Contact us today and let our team of professionals put together a campaign that will exceed your expectations.